Online Store & e-Commerce Solution Development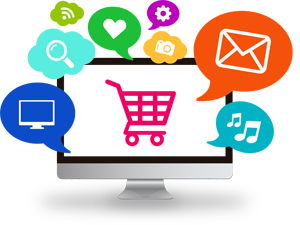 Broaden Your Brand & Business With ecommerce In fact ecommerce is becoming a major source of business revenue everywhere; hence no business can afford to ignore it for long. Increasingly, companies are expanding their markets by doing business online. Whether you are targeting customers only in Jeddah or trying to expand to the vast potential markets that exists in other parts of the Kingdom or even beyond borders, an Internet storefront can open your doors for business 24 hours a day, 7 days a week and 365 days a year.

Amtech assists enterprises advancing into the exciting domain of virtual marketplace in Saudi Arabia. Our ecommerce websites are built to make the buying process simple and enjoyable forusers. And with and administrator control panel provided to your designated staff for products/service updates, generating daily reports along with seamless expansion scope, managing your online commerce will be more comfortable than you expect.
Services we offer include:
Setting up of web storefronts, shopping carts.
Online inventory management&order tracking.
Online payment & transaction systems
Delivery courier system integration.
Hosting, security & backup management.
Online auction system.
Customer Relationship Management (CRM)
Online Marketing Services & Support
Customized B2B & B2C Portal Development.
Let's help you step into the most exciting domain of virtual marketplace. Contact us